Ted Letcher Space Weather
Auroral Activity
Low
North-Hemispheric Power
Current
21↓
30mn mean
21.2
Geomagnetic Activity
Quiet (G0)
KP Indicies
Current Ob
3hr Max Ob
2
1hr Forecast
4hr Forecast
Solar Wind Activity
Unfavorable
Field Orientation (Bz)
Current
North:
20mn mean
North:0.00
Solar Wind Speed (km/s)
Instant
20mn mean
0.00
Sky Conditions
Clear
Currently at KGFL

2°F

72%

calm |
---
sky clear below 12,000ft
Forecast Geomagnetic (Kp) Index
About this Plot
Bars: Forecast Kp index from the SWPC
Filled Circles:Moon phase and normalized sky position
Ovals: MOS Cloud Forecast
Dashed Line:Current Time
The short term Kp forecast is updated twice daily. The long term forecast is updated weekly on Mondays and forecasts possible effects of features like coronal holes and CIRs. The long term forecast will likely not accurately reflect acute solar events such as Earth directed CMEs. Cloud cover, moon phase, and moon rise/set time are valid for Glens Falls, NY. The long term Kp shows the maximum expected Kp index for a given day.
Quick Looks!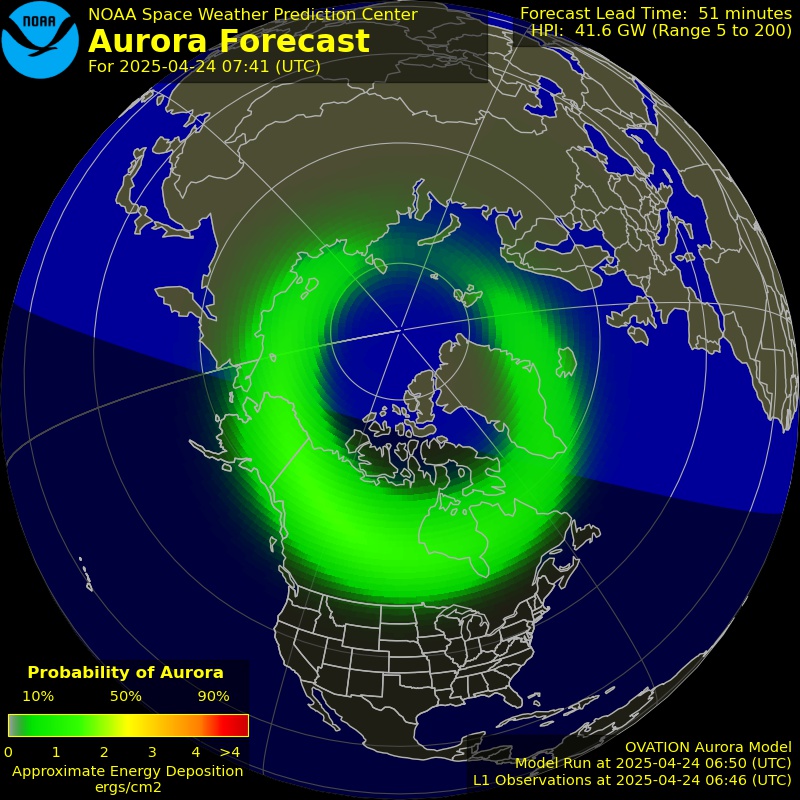 Current Auroral Oval from the SWPC
Current IR from GOES east | Northeast IR Satellite